Hosted Applications
Access your essential applications from anywhere
ABC Cloud can host almost any application making it available from anywhere and anytime. Hosted Applications are also easier to deploy, maintain and update saving time and money on overall administration.
What is it?
A hosted application is where the software resides on servers that are accessed through the Internet instead of the more traditional software that is installed on either a local server or on individual PCs. Hosted applications include all the IT infrastructure and support services necessary to deliver them. Applications are hosted at a data centre and accessed over the Internet. Hosting an application eliminates the costs and complications of traditional client server software while providing the most current application software along with the latest in technology and security.
What are the benefits?
Great Flexibility – Makes your essential or bespoke applications constantly available and online. Hosted applications can be accessed from multiple locations and by multiple users at the same time.
Low Maintenance – With hosted applications the hardware and software is our responsibility with you only having to maintain access to the Internet.
Instant Deployment – As there is no software to download a hosted application can be made instantly available across an entire organization even where the organization has multiple regional and international offices.
Zero Administration – As there is no software the considerable time and resources required for periodic updates is also completely eliminated.
Reduced Costs – Hosting your application does not only eliminate the costs involved in installing, upgrading and maintaining it but it also eliminates the costs associated with acquiring and maintaining all the hardware required. As we also maintain, mange user access and support all associated issues the cost and time saving could be quite considerable.
Integration – Hosting an application can provide an integrated solution to organizations that have legacy systems from different suppliers running different operating systems.
Like all our Cloud solutions, Hosted Applications benefit from our infrastructure's core features. Read more…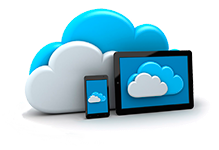 ---
Key Features
+ Instant deployment
+ Access on the go
+ Easy maintenance
+ Reduced costs
+ No administration
---