Hosted Servers
Take the hassle out of your office
Set yourself free from the costly and time consuming task of running your own in-house server. At ABC Cloud we know too well how inconvenient and risky this could be. They are noisy, need cooling and costly to maintain. They are also at risk of theft, power outage and missed or inadequate backups.
What is it?
Whole servers are recreated on our Cloud platform and then all data is copied across creating an exact replica in one of our secure and ISO 27001 accredited data centres.
What are the benefits?
Peace & Quiet – No longer need to worry about technical issues, power failures, network connectivity issues or backup routines. Free office space and eliminate noise to create a tranquil stress free environment that is ideal for running your business.
Hardware & Software Support – Once your server is hosted by us you will not have to worry about IT support. All aspects of the server will be fully managed and supported.
Eco friendly – Servers and all their associated equipment usually have higher than average electricity consumption. By moving your server out of your office you will save on your energy bills and reduce your carbon footprint.
Resilience & Reliability – By hosting your server with us you instantly make your business IT a lot more resilient. All servers hosted in our facilities are fully protected against fire, theft, power outages, internet outages, hackers, viruses, hard disk failures and data loss.
Like all our Cloud solutions, Hosted Servers benefit from our infrastructure's core features. Read more…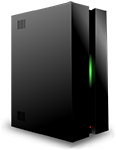 ---
Key features
+ Familiar Windows Desktop
+ Always available
+ Access from anywhere
+ Included IT Support
+ Built-in Anti-virus
+ No long term contract
---